Ultimate Reloader team member Kyle Shields joins me to explore the Speedtracker Mach4 Chronograph.
Disclaimer
Ultimate Reloader LLC / Making with Metal Disclaimer: (by reading this article and/or watching video content you accept these terms). The content on this website (including videos, articles, ammunition reloading data, technical articles, gunsmithing and other information) is for demonstration purposes only. Do not attempt any of the processes or procedures shown or described on this website. All gunsmithing procedures should be carried out by a qualified and licensed gunsmith at their own risk. Do not attempt to repair or modify any firearms based on information on this website. Ultimate Reloader, LLC and Making With Metal can not be held liable for property or personal damage due to viewers/readers of this website performing activities, procedures, techniques, or practices described in whole or part on this website. By accepting these terms, you agree that you alone are solely responsible for your own safety and property as it pertains to activities, procedures, techniques, or practices described in whole or part on this website.
Chronograph Tech Comparison
There are several varieties of chronograph technology: optical (light), sound, magnetic, and radar. We've used all of these at Ultimate Reloader over the years.
Optical (light) chronographs are very simple, accurate, and affordable. They've been very popular for years and work by shooting through a frame. The chronograph measures the time between the shadows cast by the bullet on both sensors. The downside of optical (light) chronographs is that they can be a bit bulky and take some time to set up. They also may have issues working in varying weather conditions like snow and rain due to lighting changes.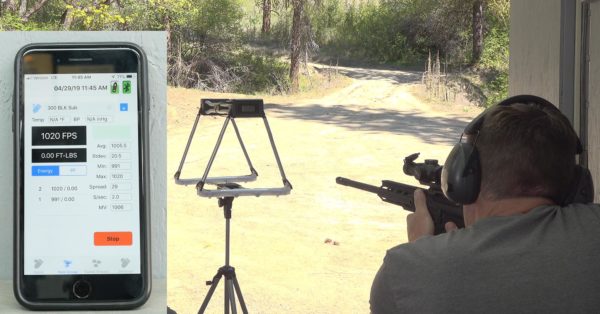 The Shotmarker target system is an example of a sound chronograph. This system is largely used for long range competition shooting on paper targets, but also includes velocity measurements. It works by detecting the sonic crack of the bullet from four different centers at the corners of the target to determine the location of the bullet. While extremely beneficial for match shooting, the velocity measurements are issued as velocity at the target, so you have to calculate backwards for a muzzle velocity. These figures also aren't as accurate as those generated by an optical chronograph and the system only works with supersonic rounds. 
Magnetic chronographs are very simple and compact. They are very easy to use on your own and don't require you to go down range. This is especially helpful if you are at a gun club or are sharing a range with other people. While easily used by one person, magnetic chronographs can be finicky in setup, requiring spacers to be a certain distance apart or an entirely separate mount if shooting with a suppressor. These attach to the rifle, but this convenience also has a downside. Hanging something on the rifle can affect the harmonics and tune. The chronograph itself may also end up damaged. The MagnetoSpeed is a popular example of this. 
Radar chronographs have exploded in popularity over the last decade. While more expensive than some of the other options, they are extremely simple and generate multiple data points for each bullet as it travels down range. The units are largely self-contained and compact, but require alignment and work best in isolation so you don't pick up any surrounding shots. The Speedtracker chronograph falls into this category. 
About the Speedtracker Mach4 Chronograph
The battery-powered Speedtracker Mach4 is a radar chronograph that can be mounted to the gun or placed on a tripod style mount. We observed better results with it mounted to the gun. It is extremely compact and portable (6.7 oz.) and provides a host of data on a companion app, tracking the bullet all the way to the target.
This chronograph captures speeds up to 4,000 fps with 20 to 2,000 measuring points with a 120 Ghz radar chip. The app also has indicators, green and red, to show how well it is working. Green with each speed indicates everything is working properly. Red means that you may want to stop and readjust. The battery lasts 6 hours and can be recharged via USB-C. 
From Longshot Cameras:
Best in class Speedtracker Chronograph comes complete with a mounting bracket easy on and easy off. Software included pairing with your Apple or Android mobile device. Included is a charge cord and soft case.
If you would like a hard copy of the Speedtracker manual please say so in the notes. The online version can be downloaded from their website here: https://www.speedtracker.tech/_files/ugd/786b1e_e23ad390237445cbae6005f15d3dfcc5.pdf.
What's in the Box
The chronograph comes in a zippered case with a mounting bracket, cord and parabolic adapter.
Speedtracker Setup
To mount the Speedtracker directly to our Ultradyne UD7 chassis we had to add a small section of Picatinny rail to the side of the chassis.
The Speedtracker was incredibly easy to install from there using its included quick detach mount.
Once mounted, download the Speedtracker Mach4 app. From there follow the prompts to connect and use. We tested it with both iPad and iPhone. There is an Android version as well. 
Live-Fire Testing
We first shot the 6mm ARC at our mid-mountain range with a bare muzzle and Hornady factory ammunition.
We then transitioned to the 300 PRC, mounting the chronograph underneath the barrel with another Picatinny adapter. This rifle had an EC tuner brake which still yielded consistent results.
Also available is a suppressor mount, standalone tripod mount, and parabolic swivel adapter. The direct mount yielded far better results than standalone, but you may have to experiment with location. 
Conclusion
This compact unit requires critical alignment. For this reason, we recommend directly mounting the unit to the rifle. It is a good product for PRS shooters and can be easily thrown into a range bag. 
Get the Gear 
Purchase the Speedtracker Chronograph from LongshotCameras.com.
Don't miss out on Ultimate Reloader updates, make sure you're subscribed!
Thanks,
Gavin Gear and Kyle Shields